9 High-Rise Fire Safety Tips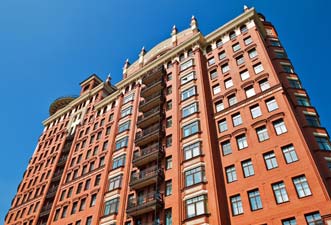 High-Rise Fire Safety Tips For Property Managers
High-rise fire safety tips are very important for residents for high-rise living and condominium residents. Most high-rise buildings have security systems, smoke alarms, and fire alarm systems in place, but it is important to have an escape plan in the event of an emergency.
High-rise apartment buildings have elevators, added stairwells, and some have indoor hallways. Regardless of the features your high-rise does or does not have, it is best to be familiar with all the possible exits out of the building. Include in your evacuation plan any additional steps for children, the elderly, and pets to ensure everyone's safety.
Exit quickly and remember that smoke is as dangerous as the flames. Smoke will rise, and the higher in the building you are, the more of an impact it will have on your escape plan.
Do not use the elevator in the event of a fire. In the event of a fire, your elevator may still work, but do not be tempted to use the elevator. In the event of a power outage, you may become trapped inside, or the elevator could descend rapidly and be very dangerous.
Avoid smoke at all costs. Even though the smoke may not be affecting you right now, you do not want to take any chances. Cover your mouth, stay low to the ground, and exist as soon as possible.
Thoroughly inspect any door that you have to open prior to opening the door. Feeling the doorknob or the door itself can give you an indication if the fire is on the opposite side. If you open a door during your evacuation, stay low to avoid any smoke that may be on the opposite side of the door.
Use the quickest, safest, and simplest route out of the building. During a building fire, you may not be able to take your normal exit route. Use exits and areas that you know, but always stay as safe as possible.
Act fast and leave your belongings behind. A computer can be replaced, your life cannot.
Use handrails when exiting. Buildings can become unstable during a fire emergency. Shifts in the structure can happen without notice and it is best to use handrails on stairwells when exiting.
Never go back into the building. First responders are trained for fire rescue. You do not want to add to the list of people that may need to be rescued, so once you are out of the building, stay put!
If you become trapped inside your room, do not break windows. Fires are fueled by oxygen and will travel towards that fuel. Breaking a window may draw the fire in your direction. If smoke becomes too thick, you can open a window slightly to let smoke escape.
Are you a property manager and interested in learning more about High-Rise Fire Safety Tips?
Call Fire Safe Protection Services today at 713-722-7800 or visit our online form and we will be in contact as soon as possible about Fire Protection System's High-Rise Fire Safety Tips.