Kitchen Hood Fire Suppression Services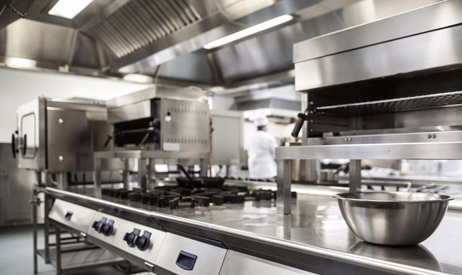 It's no secret restaurants have a greater fire risk than other types of businesses.  Many restaurant owners are unaware of the heightened potential danger and how significant fire damage can be.  According to the National Fire Protection Association, 61% of all restaurant fires originate in the kitchen, and cooking materials were the first item to ignite in nearly half of those fires. Largely in part due to kitchen hood fire suppression systems the majority of commercial cooking fires are contained and do not spread beyond the initial location. Integrating a fire suppression system in your commercial kitchen can mitigate the risks of fire damage and help recover from unforeseen incidents.
These systems tend to get dirty and can degrade quickly so it's important to have a licensed professional service vent hoods regularly.
Other Kitchen Hood Suppression Services
Dry Chemical Kitchen Hood Systems
Dry chemical fire suppression systems are pressurized, dry-powder systems used in areas where water sprinkler systems are not available or preferred. These systems protect against fires inside paint booths, mixing rooms, dip tanks, or other areas that require fire protection for deep-seated or long burning fires. We proudly install Amerex dry chemical systems and perform maintenance on all systems.
Kitchen Hood Clean Agent Systems
Clean agent systems serve as an excellent method of fire protection for valuable assets without the mess. Clean agent systems use inert gas or chemicals to extinguish fire and leave no residue behind.
We service FM200, halon, and carbon dioxide (CO2) systems.  As a Firetrace distributor we install small application systems for pharmacy carousels, server racks, storage racks, service racks, etc.
For additional information about a commercial kitchen hood, call us at 713-722-7800, or fill out the information below and we will contact you shortly.