Nurse Call Systems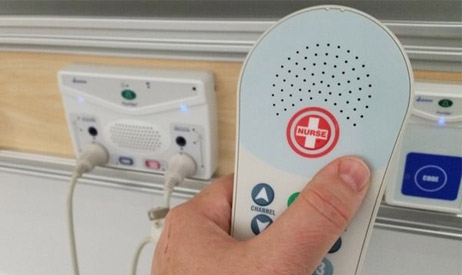 When a patient is in distress, the response time can be the difference between life and death.  Integrating a state-of-the-art nurse call systems improves the safety and quality of care with multiple alert indicators which can ultimately decrease response times and manage hectic workloads with high occupancy hospitals and care facilities.  We proudly offer the best nurse call system available in the industry to health care providers. Jeron® nurse call systems combine leading technology with patient-focused benefits that extend to every staff member. These systems are easily scalable to fit any size hospital or healthcare campus.
Jerons® Provider 700 and 790 Nurse Call Systems
Jeron's® Provider 790 is an innovative nurse call system designed with the latest technology. This system integrates Ethernet and VoIP technology, automated real-time staff locating, wireless smart bed monitoring, SIP wireless phone communications, code blue rapid response alerts,  text messaging and pocket paging notifications, and touchscreen technology. This advanced technology streamlines the workflow process while wireless alerts are sent directly to smartphones helping increase communication pathways and large, real-time, color displays allow caregivers to prioritize procedures and patient care while locating other caregivers if needed. The Provider 790 system, as well as the Provider 700 system, are great for hospitals and medical campuses.
Jeron Provider 680 and ProAlert 570 Systems
The Jeron Provider 680 and ProAlert 570 systems are smaller, more cost-effective, and are great options for urgent care and long-term acute care clients in rehabilitation and nursing facilities.
We take care of you, so you can focus on taking care of patients in need. Call us today to provide a facility survey, lunch and learn training, system design services, repair services, testing and/or inspection services performed on your system.
For additional information call Fire Safe at 713-722-7800, or fill out the information below and we will contact you shortly.