Fire Sprinkler System Maintenance Tips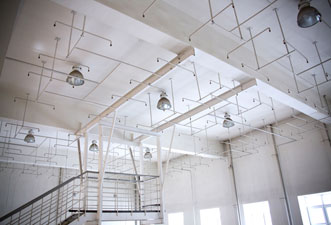 Tips for Fire Sprinkler System Maintenance
A properly functioning fire sprinkler system is a crucial component that can prevent a small containable fire from developing into a devastating building fire. Keeping your fire sprinkler system in proper working order and in the best shape possible may be the determining factor between significant fire damage and minor repairs.
A structure fire moves quickly and the magnitude of damage can escalate within seconds. Fire sprinkler system maintenance can prevent system malfunctions & delays, increasing the safety of your property and those inside.
Fire Sprinkler System Maintenance Tips
Our list of fire sprinkler system maintenance is designed for larger buildings, industrial facilities, and mixed commercial use structures. Regularly scheduled fire sprinkler system maintenance is your best option to keep your property investment secure.
Visual Signals
Communicating visually is extremely beneficial. Strategically placing signs near your fire sprinkler system equipment is important. Reminding your employees and staff to keep valves in the open position will allow your sprinkler system to function properly if needed.
Lock Control Valves
If your sprinkler system allows you to lock your control valves in the open position, it will put your fire sprinkler system in its best possible state to fight the fire. Electric lockout devices are one of the most effective ways to keep your fire sprinkler system valves from being closed or adjusted.
Become Familiar with NFPA Code 25
National Fire Protection Association has created guidelines to assist in stopping failures from occurring with routine check-ups. Training staff on the basics of fire sprinkler system maintenance is a vital step in protecting your business and staff.
Useful Everyday Fire Sprinkler System Maintenance Tips
Replace sprinkler heads that have boxes, equipment, or any items that may have come in contact with the sprinkler head. The unit has very sensitive heat detection sensors that shouldn't be jostled in any way. It is best to keep sprinkler heads away from equipment and items that may damage the sensors.
If remodeling or renovating, make sure that any paint spray or painter's tape is removed from the sprinkler head
Keep sprinkler heads away from excessive heat. Businesses such as metal fabrication, bakeries, or metal forgers need to have their fire sprinkler heads inspected and replaced more frequently.
Weekly/Monthly/Yearly Fire Sprinkler System Maintenance Tips
Piping and gauges should be replaced every five years
Sprinkler heads should be replaced every twenty years in fast response systems, fifty years for other systems
Yearly inspection of alarm switches, backflow preventers, and control valves. Replace these components if they are found to be faulty.
Complete system fire sprinkler system maintenance and inspection should be done yearly by a qualified commercial fire protection design professional
Do Not Delay Your Fire Sprinkler System Maintenance
No matter the size of your business, the threat of fire still remains. Maintaining your fire sprinkler system could very well be a matter of life and death, and a devastating setback to your business.
Would you like more information about Fire Sprinkler Maintenance?
Call Fire Safe Protection Services today at 713-722-7800 or visit our online form and we will be in contact as soon as possible.