Summertime Fire Safety for Property Managers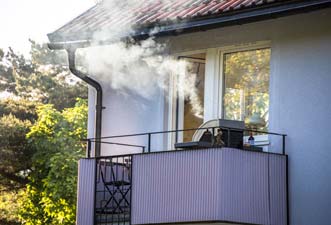 Summertime Fire Safety Best Practices for Property Managers
Summer is here, and we are experiencing great weather for spending time outdoors. Residents are enjoying summer by cooking outdoors, family and holiday gatherings, and Fourth of July festivities. Establishing a summertime fire safety protocol is important to keep your property and residents safe.
In preparation for communicating with residents about the property's safety plan, proper maintenance is crucial. Keeping all fire extinguishers, fire sprinklers, and fire alarms in proper working order should be on the top of your list for summertime fire safety. Summertime fire safety checks are also a great time to revisit local fire ordinance laws to maintain compliance.
Accidental fire hazards increase during summer months with charcoal or gas grills being used more often. Children on Summer Break and left alone also increase the potential for accidental fires. Effective communication of proper safety standards and property rules can prevent potential dangers of fire. Many multi-family housing property fires originate on patios and balconies.
Here are some tips that promote summertime fire safety for property managers:
Create Designated Smoking Areas
Residents who smoke cigarettes or other tobacco products will appreciate a designated smoking area. With the increased amount of time residents spend outside, a designated smoking area with proper extinguishing receptacles keeps residents safe and free from any potential fire hazards. Cigarette butts or smoldering cigarettes are a leading cause of wildfires.
Forbid residents from smoking on patios or balconies to keep cigarettes away from the building and reduce potential hazards. A fire that starts on a balcony is extremely dangerous.  A fire can spread quickly to other units and throughout the entire building. Clearly label designated smoking areas and provide education about these areas to residents. It can prove vitally important to summertime fire safety.
Create Defined Charcoal or Propane Grill Rules
Educating residents and properly posting these rules is an important part of keeping a safe community. Leasing agreements are a great time to discuss these rules, and the beginning of summer is a great time to send a friendly reminder of the rules. Community sharing of grills and an outdoor kitchen are a great way to promote adherence to outdoor cooking rules.
If you do create a shared outdoor cooking area, ensure that fire extinguishers are installed in a nearby location. Posting rules for using the area as a reminder of the safety measures that are in place can greatly influence resident behavior.
Prohibit Fire Pits and Bonfires
Open flames are a huge potential fire hazard. Summertime news headlines are riddled with stories about wildfires that started from a campfire getting out of control or embers sparking nearby dry wooded areas. Fire pits on a balcony or patio can heat up the building structure, cause harmful smoke and fumes, and spark nearby clutter or trash to ignite.
Do Not Allow Fireworks On the Property
Everyone loves a good fireworks display. The Fourth of July marks the sale of these fun, aerial displays. There is a reason large firework shows are done in open areas and away from homes or businesses. Fireworks in an apartment complex or multi-family housing property can be deadly when a fire is started.
City ordinances often have regulations on fireworks in place. Clearly communicate these local restrictions on fireworks to your residents to effectively promote summertime fire safety practices.
Are you a property manager and interested in learning more about  Summertime Fire Safety?
Call Fire Safe Protection Services today at 713-722-7800 or visit our online form and we will be in contact as soon as possible about Fire Protection System Summertime Fire Safety.