Types of Fire Detection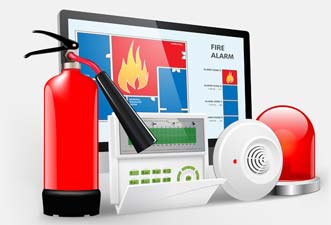 3 Main Types of Fire Detection Systems
The key to fire safety is early detection. Detecting a fire early allows occupants to exit the building in a calm, timely manner to avoid injury and harm. Proper notification can be sent to first responders and if they have building diagrams, they have the means to attack the fire at its source. In addition, fire detection may activate fire suppression measures built into the structure.
Commercial fire detection may include one or more of three detection methods: flame, heat, and smoke detection.
Flame Fire Detection System
As the name suggests, flame detection uses technology to monitor the presence of flames, as compared to smoke or heat. There are two basic types of flame detection equipment:
Ultraviolet (UV) detectors search for the UV radiation emitted at the point of ignition. This happens very quickly, within milliseconds of ignition. However, UV detectors have a delay of a few seconds to minimize false readings from lightning, welding, or sunlight.
Infrared (IR) detection monitors the infrared spectrum for specific radiation patterns given off by hot gases. In order to sort through all of the data, IR detectors generally search for the frequency emitted from CO2, present when hydrocarbons burn; hydrocarbons include oil, natural gas, and wood products.
Heat Fire Detection System
Slightly a little less sophisticated, heat detection monitors heat in two ways.
Fixed temperature detectors are triggered when a room is heated to a predetermined temperature setting. Once the temperature is reached the alarm activates.
Rate of rising detectors measures sudden increases in temperature. The sensor does not wait until a predetermined setting but can act quickly when the environment heats up quickly.
Some heat detection application combines both methods that tolerate a slow increase in temperature, noted and prepared for, but recycles when the ambient temperature falls to reach the threshold for activation.
Heat detectors have a high-reliability rate, so they generate few false alarms. However, they are generally slower to identify a fire than other forms of detection. They are well suited for areas that experience significant steaminess, humidity, or dust.
Smoke Fire Detection System
Fire generates smoke and smoke tends to harm more people than fire. Smoke detection is familiar to most people since homes should have smoke detectors installed. Smoke detection uses three types of technology:
Ionization Detectors use minute pieces of radioactive material to create an electric current between two electrodes. Even small amounts of smoke will disrupt the current and cause the alarm to go off. The advantage of ionization detection is that it is extremely sensitive and detects even small traces of smoke.The alarm sounds quickly after a fire starts so that occupants have more time to get to safety. The disadvantage of ionization detection is that it is extremely sensitive and can trigger false alarms due to burnt toast or a steamy shower.
Photoelectric Detectors use a very narrow light beam between two points near the ceiling. When the smoke from fire breaks the beam of light, the alarm will sound. Photoelectric detection is very reliable and causes fewer false alarms.
Some systems combine both ionization and photoelectric detectors. This identifies smoke from both fast-burning and smoldering type fires.
Aspirating Smoke Detectors
This very sophisticated smoke detection system samples the air and tests for particle levels in the air. If the particle level rises above a certain threshold, the alarm sounds. Aspirating smoke detectors are very reliable, resulting in few false alarms. A typical application may be around sensitive electrical equipment, to detect smoke before it can cause damage.
Have questions about Types of Fire Detection?
Call Fire Safe Protection Services today at 713-722-7800 or visit our online form and we will be in contact as soon as possible about Fire Protection Services for Federal Buildings.